This was a fun, comfy outfit I wore to work yesterday and to dinner with Anna of See Jane, a fabulous Chicago style blogger. We've been trying for months to meet up and finally, the stars aligned and we were able to meet up and grab pizza at my roommate's restaurant, Big Stuff. I already knew she would be super cool because, you know, I stalk her blog, but we had so much in common! We both grew up showing horses and are a bit messy. Which is why you never see me take cute pictures of my apartment or pretty things around it. Those things just don't exist. You're more likely to see photos of shoes laying about and little tumbleweeds of my hair along the floor.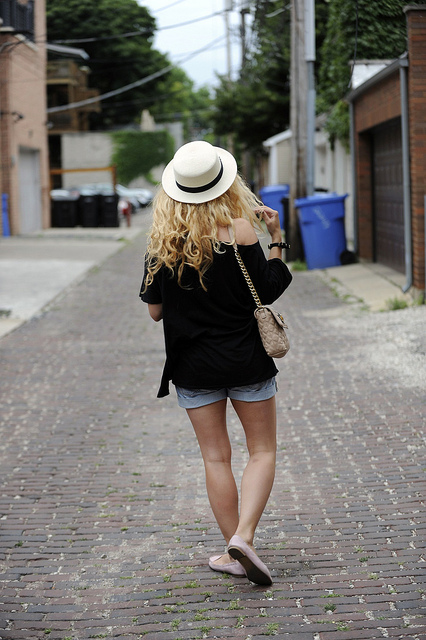 In other news, I've recently learned knee length, light, flowy skirts are out of the question with my walking commute to work. With the winds and not to mention sidewalk vents, I've experienced the embarrassment of flashing dozens of people to and from work on Monday. I also learned yesterday whilst wearing this shirt that walking over a sidewalk vent with a loose, billowy tee will also result in embarrassment because people will inevitably see my bra. It's been a rough couple days for me and my exposed undergarments.
[top from uo, shorts by h&m, hat by ninewest, shoes by jeffrey campbell, leather bracelet by tea accessories, bag by marc jacobs]
And the gorgeous Anna! Be sure to check out her blog, See Jane if you haven't already!