My workout routine up until three months ago was walking to and from my car to get donuts and ice cream. In high school, I was quite active. I was a cheerleader, ran track and cross country and showed horses. Afraid of the "Freshman 15" when I entered college, I forced myself to do aerobics classes and join MSU's equestrian team. I could only work out in a gym environment if there were T.V. monitors attached to each individual equipment where I could watch Reba episodes in peace on the elliptical.
Since graduating college and becoming more focused on work, grad school and other things like Roseanne marathons on TV, my clothes seemed to not fit so well and I just felt bloated and lacked energy. Finally in November, I joined the local YMCA and thanks to motivation from my health conscious, fit and handsome boyfriend, Kyle, I've been able to make a real effort to not only work out, but eat better too.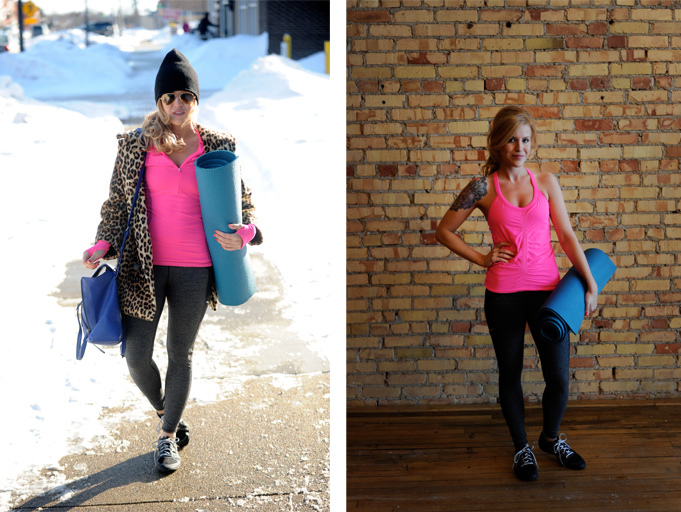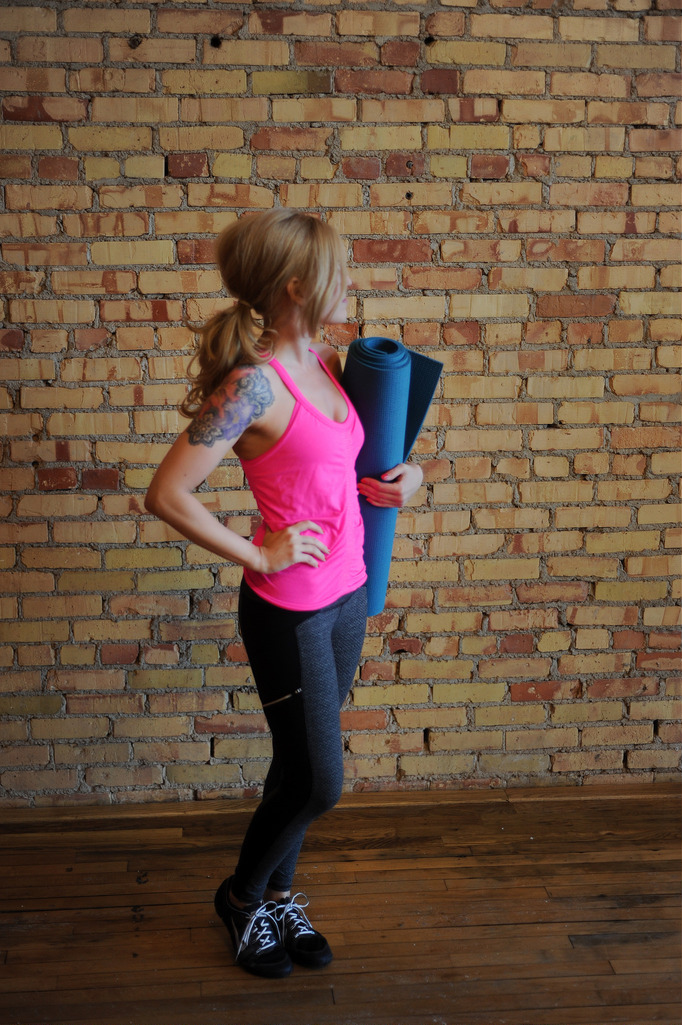 Thanks to the Athleta Fit Style Challenge, I got to pick out some new great workout pieces. I picked out an
assortment of hot pink tops and cozy leggings that have now set a new standard of comfort and style for working out. I wore this to my workout classes
last Wednesday and added a hat and the vintage leopard print jacket to do some grocery shopping post-work out.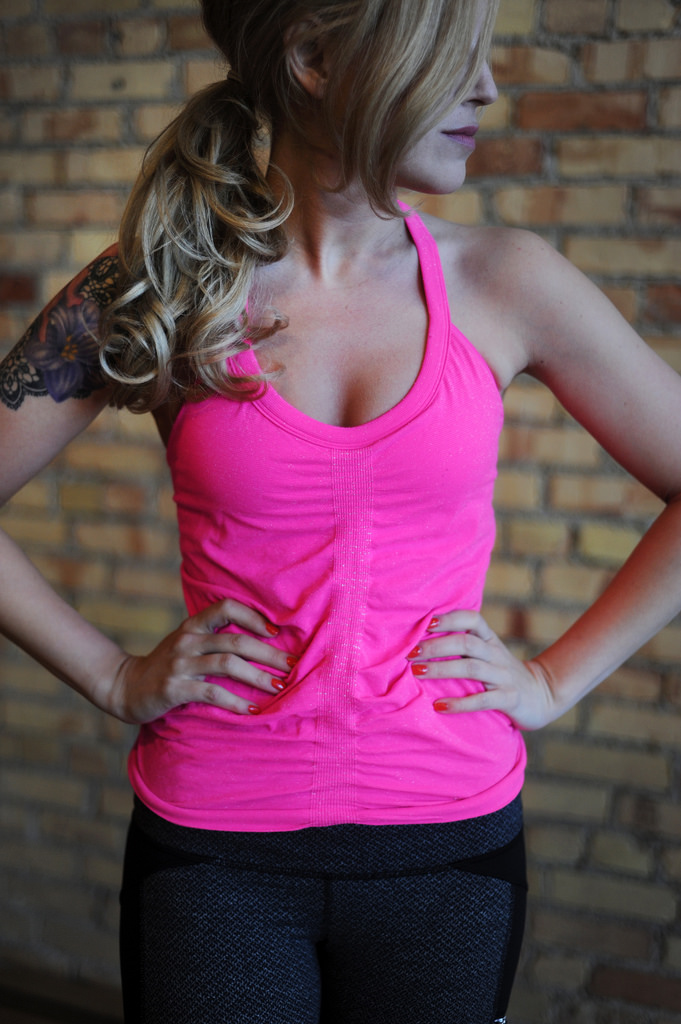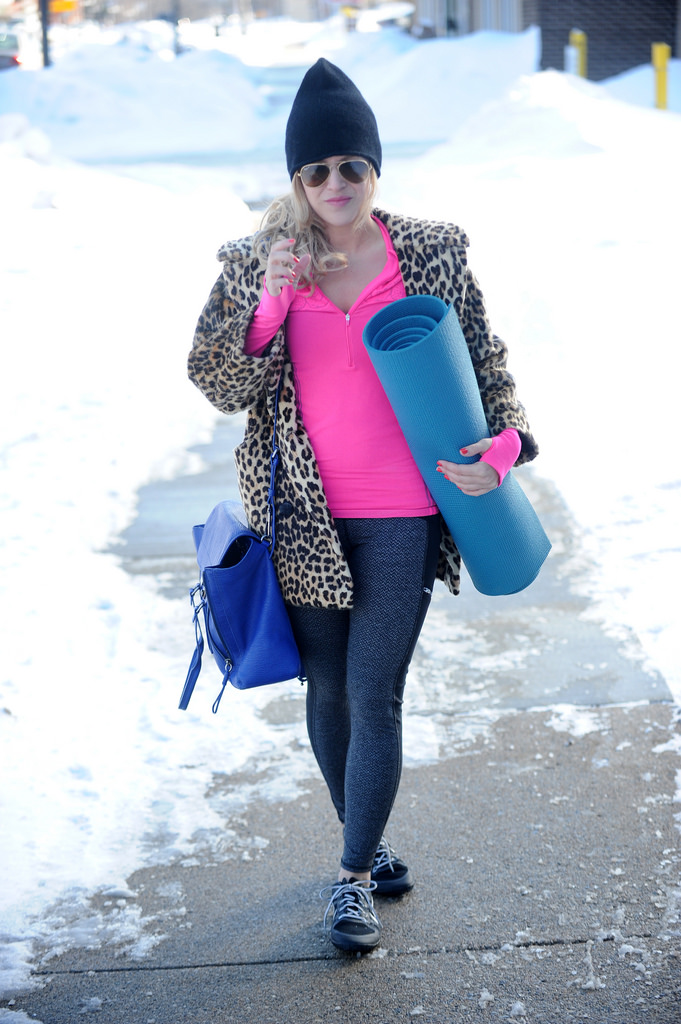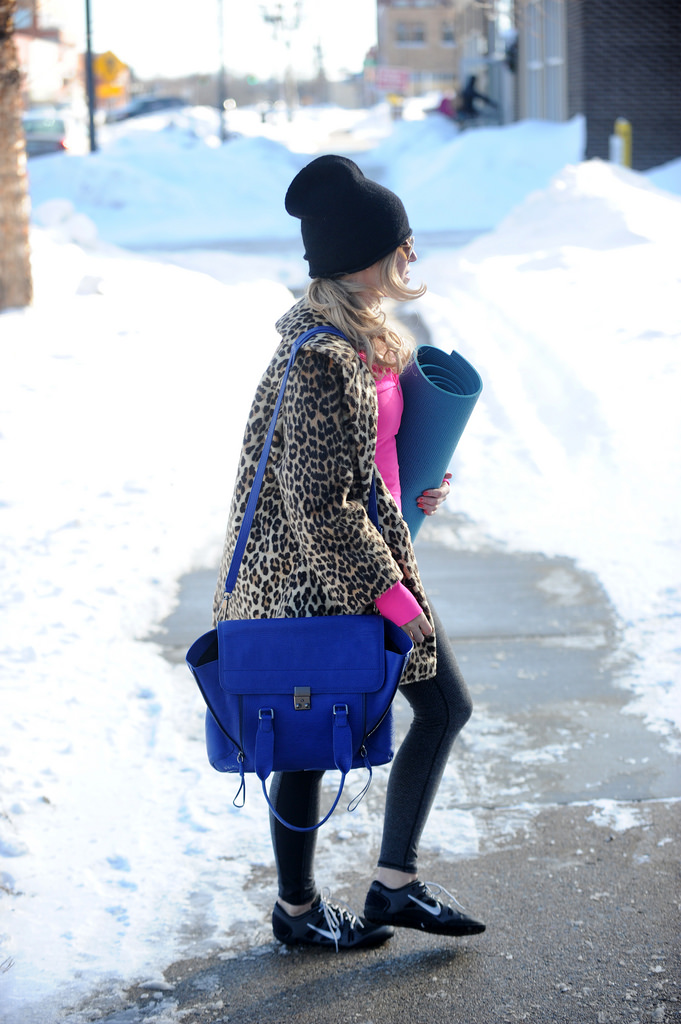 Tips for lazy girls like me who wrinkle their noses at fruits and vegetables:
The buddy system. I've gone through work-out phases before and they always begin with a friend or two who seem committed and somewhere along the line, one of us stops making an effort and it has a domino effect. I have friends in my workout classes now and Kyle who help keep me motivated and it's become a more fun experience.
Keep a food diary. I use the app, My Fitness Pal and I keep track of what I eat day to day and how many calories I burn from workouts. Since I suffer from pretty bad migraines, this has been a helpful tool to determine what leads me to endure more of these. I've learned most of the time it's alcohol, so for the sake of my head and my love handles, I hardly drink any booze. I keep my calories around 1,200-1,400 a day and always eat breakfast, lunch and dinner with small snacks in between.
Try juicing. Juices always looked like murky swamp water and the very sight of it disturbed me. I was finally forced to try one and it's actually really good. I like mine sour so I add extra Granny Smith apples and lemons in addition to the carrot and kale variety. This is a great way for me to get the vitamins and nutrients I need since I would never chew on a kale leaf, order a salad or snack on grapes for fun. I'd rather just drink it all at once in a surprisingly tasty beverage.
Look good, feel good. Once I worked out for a couple weeks in my old ratty Balls Deep kickball t-shirts and I made some physical improvements, I rewarded myself with new workout gear. I never imagined I'd give a shit about a bright colored sports bra or a new pair of socks, but if it gets me excited to go to the gym, I won't argue with myself.
My weekly routine includes an abs class and a strength and conditioning class each Monday and Wednesday and on Fridays and Saturdays, I work out on my own for cardio and join Kyle for strength training. Cardio is usually 3 miles on the elliptical and sometimes, run on the treadmill. I prefer the workout classes over working out on my own because I always tend to try harder when around the instructors (and they correct my form and call me out if I'm not trying hard enough. If you live in Lansing, I highly suggest the abs and strength/conditioning classes at the downtown YMCA by Kalea.)

I've lost 10 pounds (am down to 119) since starting a more healthy lifestyle and I feel great and my ass is less flat. Hooray.
Disclosure: Athleta provided me with apparel in exchange to participate in the Athleta Fit Style Challenge
Photos by Kyle Keberlein