Athleisure All the Way
Usually at least half the day on weekends and after work you can find me in some version of this look. Jeans are so uncomfortable for me and I just want to wear leggings or jogger pants every day of my life. I think I just need new jeans, but instead I buy new leggings in the same style and color I already own a dozen versions of already.
Mixing High & Low
I love Lululemon and Alo workout gear, but I also don't want to pay out of my ass so I find a good balance between higher-end athletic wear and more affordable pieces. I usually always wear leggings from Lululemon–they just fit me the best and mix in pieces like this clearance sweatshirt I found at Meijer while I was grocery shopping. The best $7.50 I've spent.
I also got this puffer jacket in two colors since it was on such a huge sale (just $30!) and I just toss this blush one or the black color on over for any trip to the gym.
And last, but not least, this camo day tripper bag basically completes the look. I saw this bag on my friend Brooke's blog and had to have it. It's a bag I knew I could use for gym, overnight trips and when I need to bring a ton of shit to work. Anyways, it turns out the bag was from Stella & Dot which is sold by independent stylists typically through trunk shows and such, which never really appealed to me before. But, once I saw my friend's bag and some other cute pieces from the line, I wanted to host my own little online show with a local stylist!
Shop With Me!
Today, I'm kicking off the online shop through this Facebook event. It just feels more natural to me to shop and peruse online, see how people are styling certain pieces, ask questions and shop or buy if I actually like it, not out of obligation or perceived peer pressure. If you'd like to join this group, click here! I'll be sharing videos and more photos of how I'm styling my favorite pieces.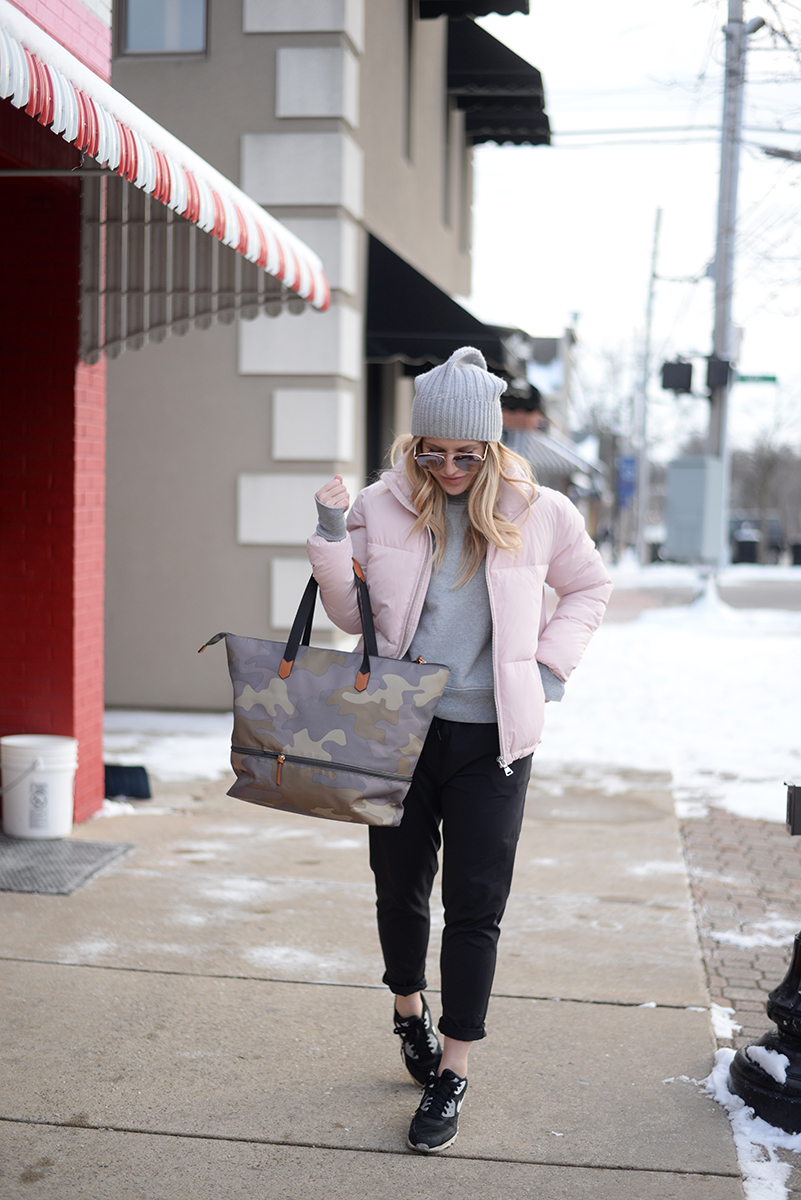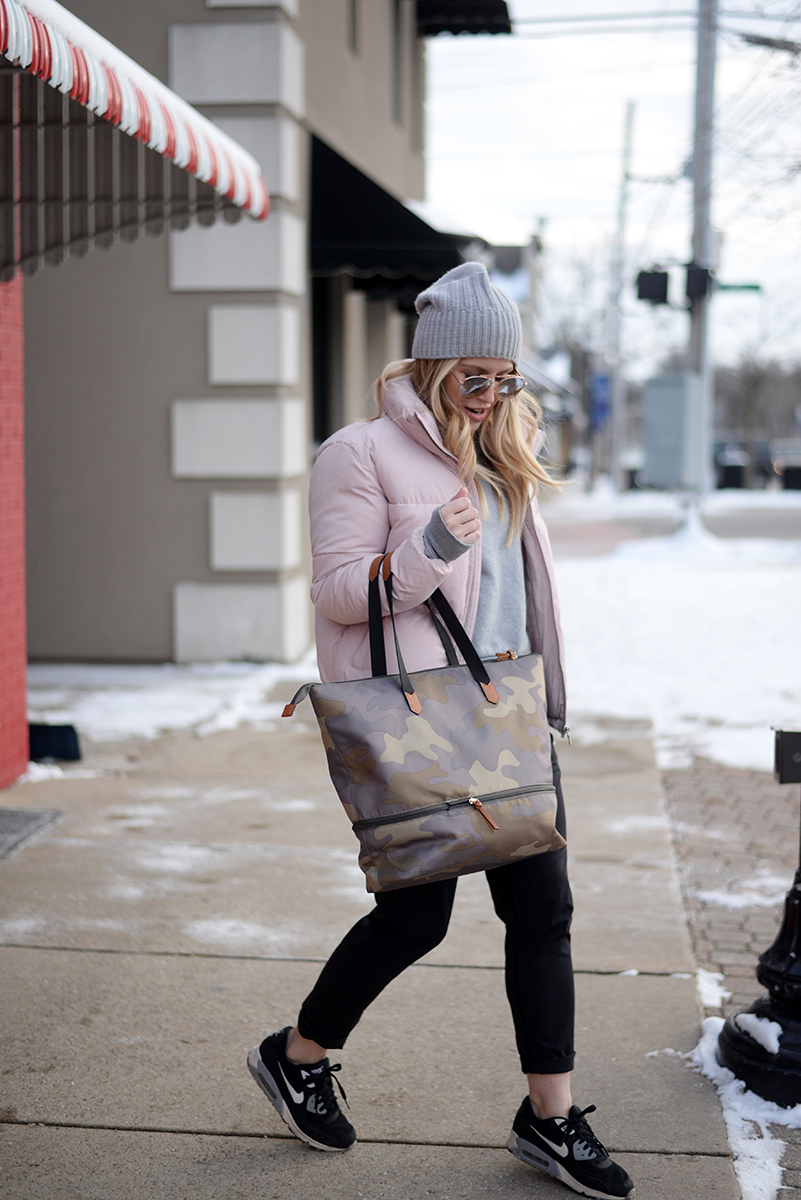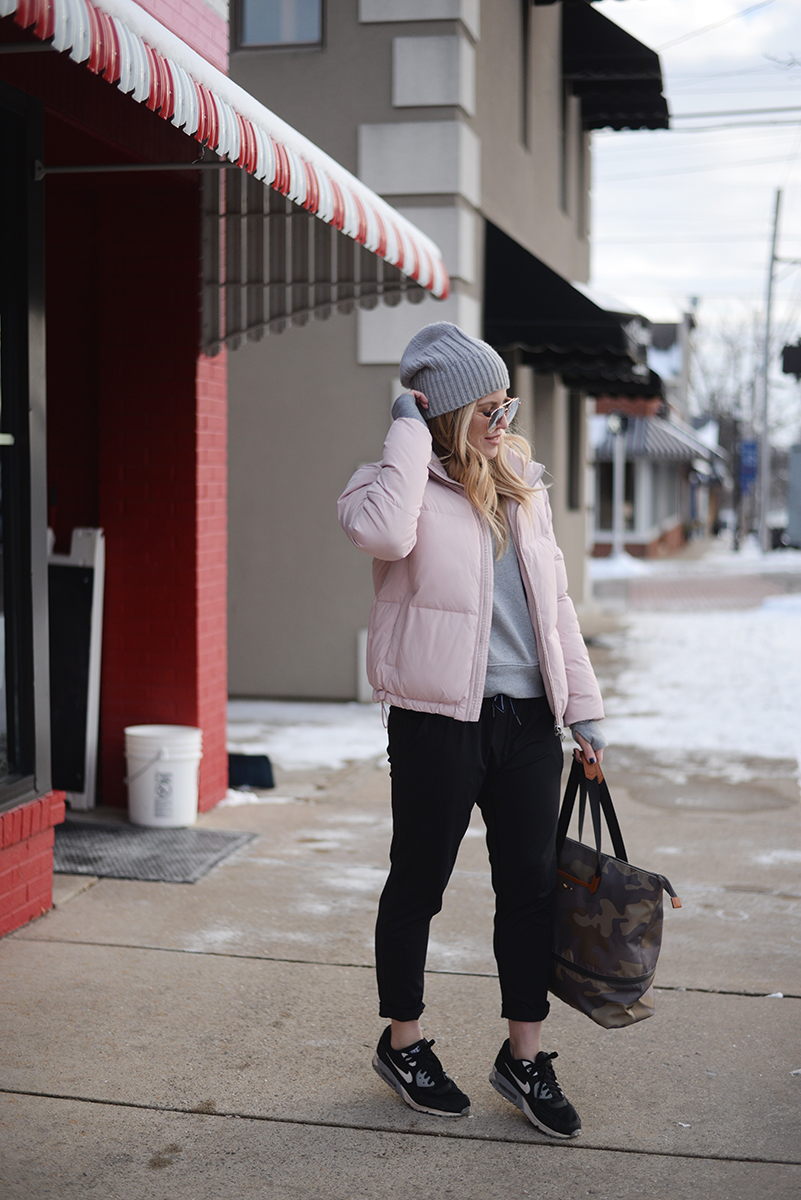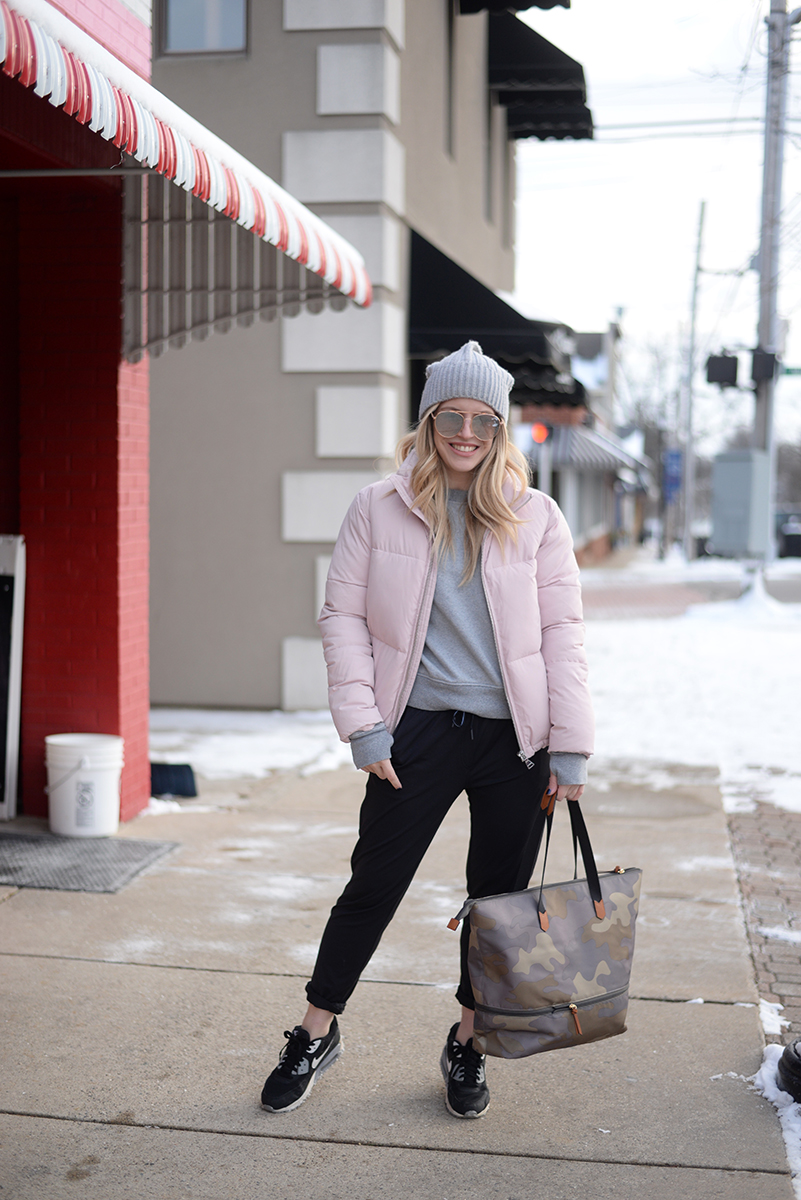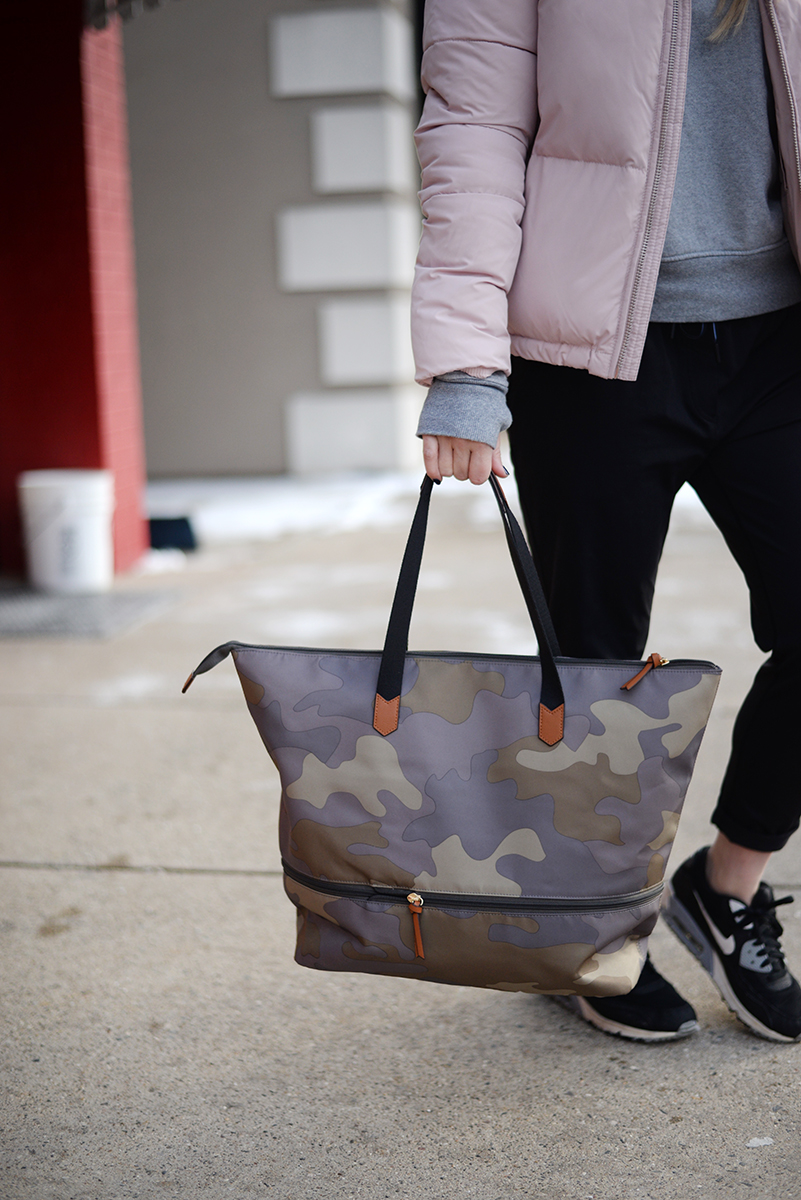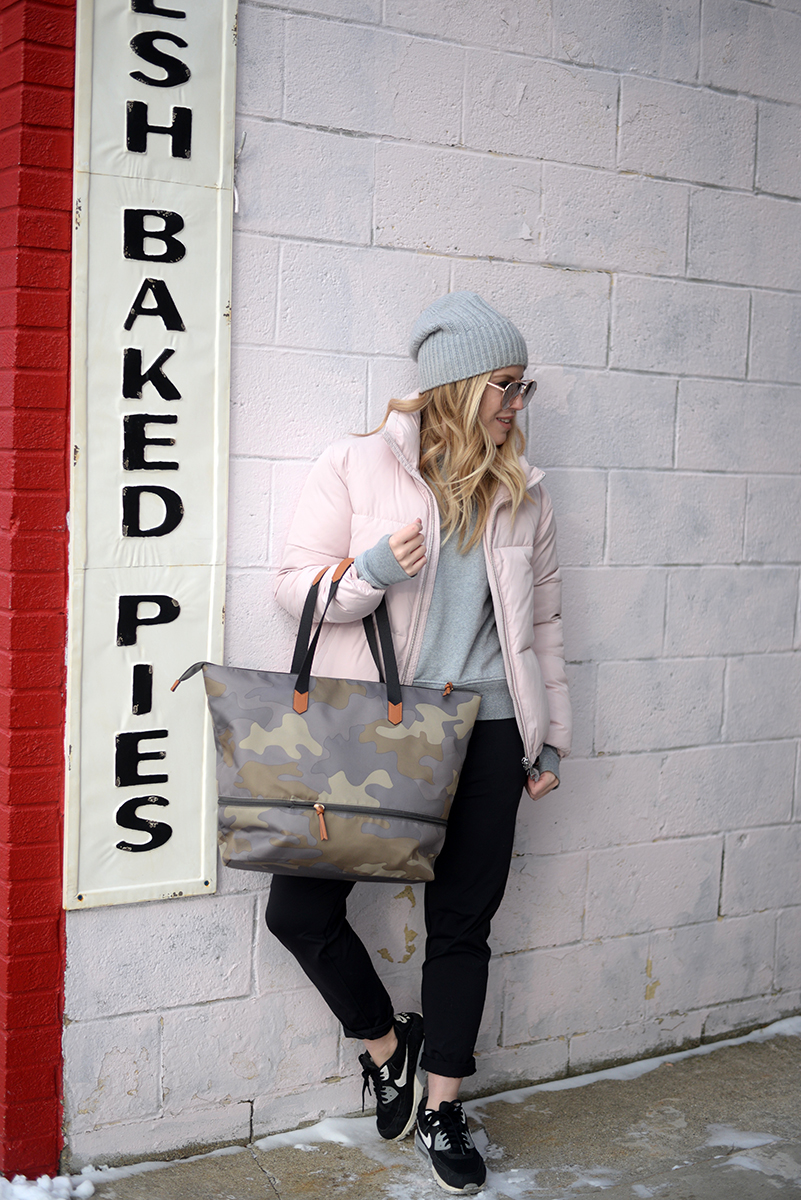 jogger pants by Lululemon (similar pants here and here) | sweatshirt from Meijer | puffer coat from Express (on sale!) | bag from Stella & Dot | Quay sunglasses from Retail Therapy
Photography by Brooke Cummings