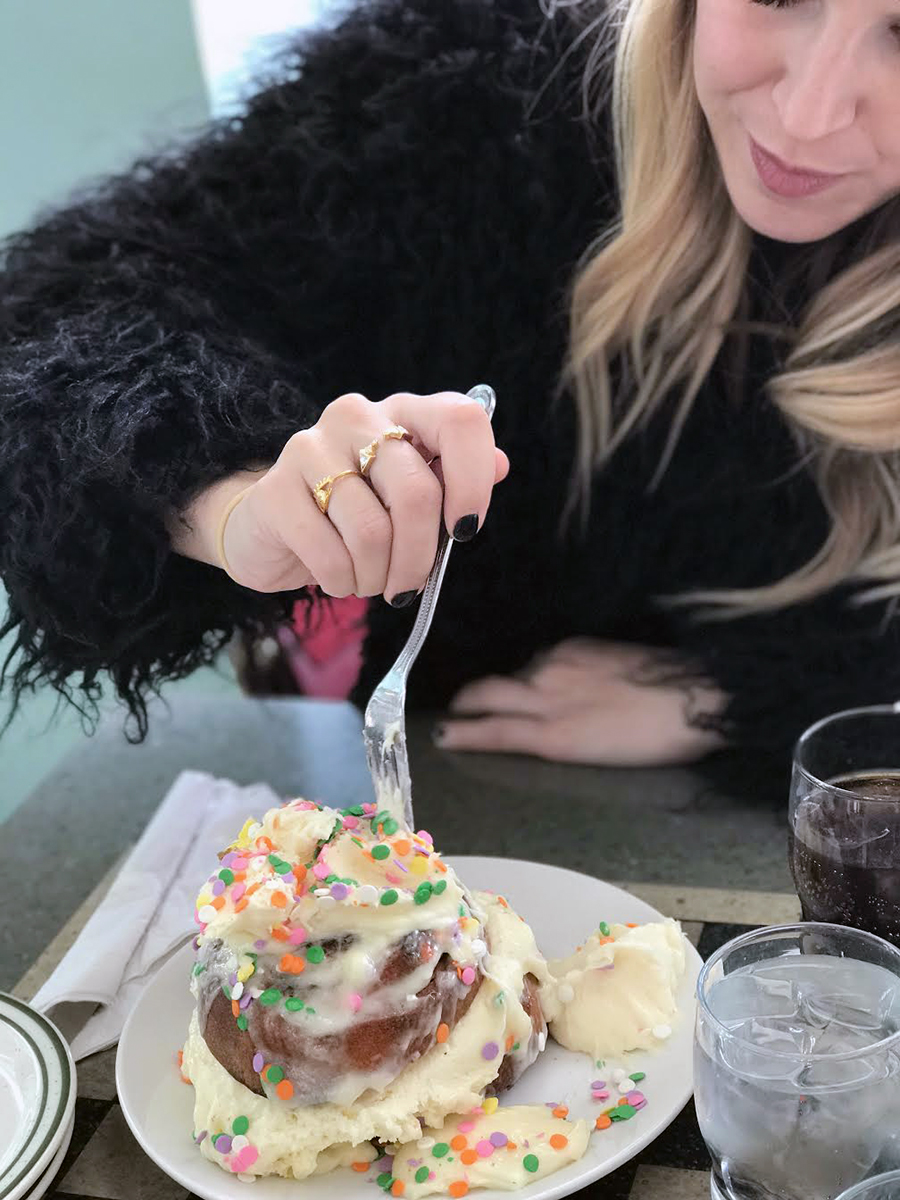 My favorite ginger Merl came to visit last week and we made our bi-annual trip to Detroit to shop her favorite thrift strores and explore a few new places along the way.
Lunch/Brunch
Merl and I rolled into the city around 1 p.m. hungry for brunch at Parks and Rec Diner. I ate a giant breakfast burrito that morning so I ordered the $10 gigantic cinnamon roll and Merl ordered the potato hash. We carbed up before the thrifting began.
First Stop: Salvation Army (downtown Detroit)
Merl has found some great pieces here before and we noticed the prices were significantly higher this trip–like $50 coats when they were much less last year.
Second Stop: New Order Coffee
My ears start to ring when a new coffee shop pops up in Michigan and this one was new on the list to visit. I ordered an iced latte on a 17 degree weather day and Merl got a glass bottle of water. So bougie. The coffee shop is incredibly bright and lined with windows with white walls and pops of color throughout. I'll definitely be back.
Third Stop: St. Vincents in Madison Heights
They offer some great discounts daily, but overall Merl didn't find too many pieces here. It was a new place we added into the thrift tour this time and it was on the way, but may avoid next time.
Fourth Stop: Berkely
We always head to Council Thrift and Odd Fellows Antique Mall. Council Thrift has a decent variety of designer items, belts and accessories. Odd Fellows is one of my favorites. Upstairs is filled with midcentury modern furniture and downstairs is more affordable and where Merl found some gorgeous coats.
Final Stop: Salvation Army in Southfield
Merl loves this one too and usually by this time, I'm weak with hunger and ready for a nap. I typically run to the dollar store next door for sustenance, but this time I sat in my car to get some shit done while Merl snagged her biggest haul, uninterupted.