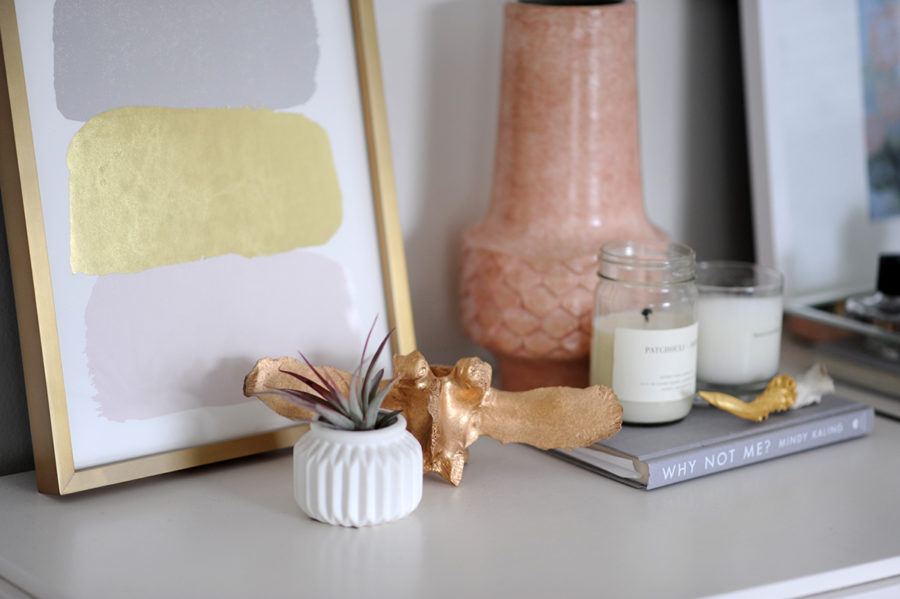 Minted!
My bedroom remains unfinished, one of two rooms that need a little TLC still, but my dresser space is exactly what I wanted it to be.
I partnered with Minted to add this new gold framed art piece, Reach by Carrie ONeal, to my dresser collection. And also to share a little promotion going on–20% off all foil pressed products included foil pressed wall art like this piece using code SHINE. For more details, visit Minted. I love this wall art piece, how it seamlessly fits in my bedroom and I chose a gold frame to make it pop a bit against the wall.
Bedroom Style
When I envisioned my new bedroom at this house, I wanted something ultra feminine. Pink sheets, floral rug and accented with blush, gold, cream and grey tones. I succeeded.
Accidental Details
I smashed a gross bug with the Mindy Kaling book and it was stuck to book cover so I tossed it, which revealed a grey book that matched my bedroom perfectly. So here it stays.
While I love the feminine room, I incorporated details of cool shit like gold dipped bones and my favorite candles out of Detroit by Detroit Rose. And new shoes double as decor before I wear them–these ones by Latigo seemed to fit perfectly here before I wore them all weekend long.