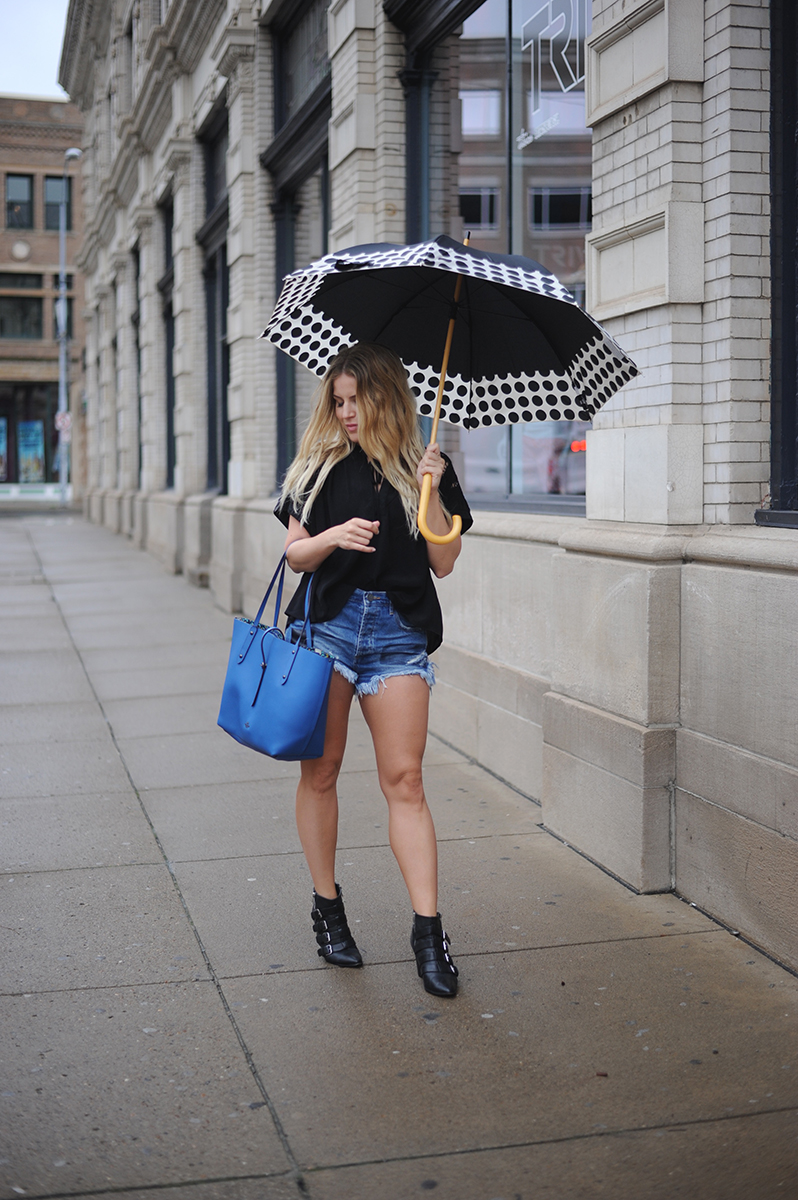 Steel City
Pittsburgh is a beautiful city. I love the hills, steeply sloped neighborhoods, bridges and anywhere you look, there's a magnificent view. It seems to me it's a bit underrated. Much more scenic than most cities I've visited and it's affordable to visit.
Now that my friend moved to one of the suburbs in the Pittsburgh area, I've made more frequent trips and with my recent car issue, I made back-to-back plans to return to then retrieve my car–and extra plans to make the most of it.
As a tourist, I'm sharing a few of my favorite places in Pittsburgh to visit. Check out my mini guide below!
Mount Washington Overlook
The cityscape and geography make for impressive views, especially at the Mount Washington Overlook. There's easy parking on site or free parking on the side streets–either way it's easy to access and worth adding to your itinerary.
Shadyside (and Lodging ideas)
If I'm honest, I haven't had the best luck with airbnbs in Pittsburgh and I compared the options with hotels in Shadyside and with ACE Hotel, Kimpton and Indigo Hotel (where I stayed), they just couldn't compete. I almost always prefer an airbnb, nestled into a neighborhood I've researched that I know I'll like. BUT in this case, the hotels here have worked out best for me.
Pamela's Diner
Pamela's diner looks to be going through a renovation–and the interrupted ambiance couldn't detract from the delicious homemade chorizo hash and buttery egg combo I shoveled down. Cole must've been feeling particularly indulgent and ordered strawberry crepes along with his basic egg and bacon combo. That bacon though. I was told to get there early and luckily, Cole and I are both early birds and rolled in right at 8 a.m. when they open and had no problem finding seating.
Dinette
I love a bright, modern restaurant and this wine bar/pizza place combo won me over with its fresh flowers on each table and then with its crispy, lightly sauced pizzas. Cole didn't love the place as much as I do–preferring a messier, sauce heavy pizza, but I thought it was delicious. Definitely a nice little place for a quick bite and drink!
Adda Coffee and Tea Bar
Adda was the only coffee shop I encountered on my walk around Shadyside, but I would return there every visit. I ordered a vanilla iced latte and it was perfectly sweetened–not too sweet. I'm no coffee connoisseur, but I can tell if it's shitty or not, and this was the opposite of shitty. Plus, the baristas were incredibly friendly and they let me take my Instagrams in peace, only commenting that they loved the natural light in the spot I sat at too and how well it worked for their own Instagrams.
Millie's Homemade Ice Cream
With my sweet tooth, I opted to eat ice cream here before our dinner at Dinette. I just needed it. I wish I would've tried the Vietnamese coffee flavor, but this place was super busy and I wanted to get the hell out of there. So I went with the Best Chocolate in a waffle cone. Magical. Next time, I want to try the coffee one and all the sorbet flavors.
No. 14 Boutique
This boutique fulfills all my girly dressing fantasies–matching top and high waist short sets, lacy rompers and fun, bold prints and so much off-the-shoulder..Setting me loose in this store is like letting a toddler loose in a Chuck e Cheeses.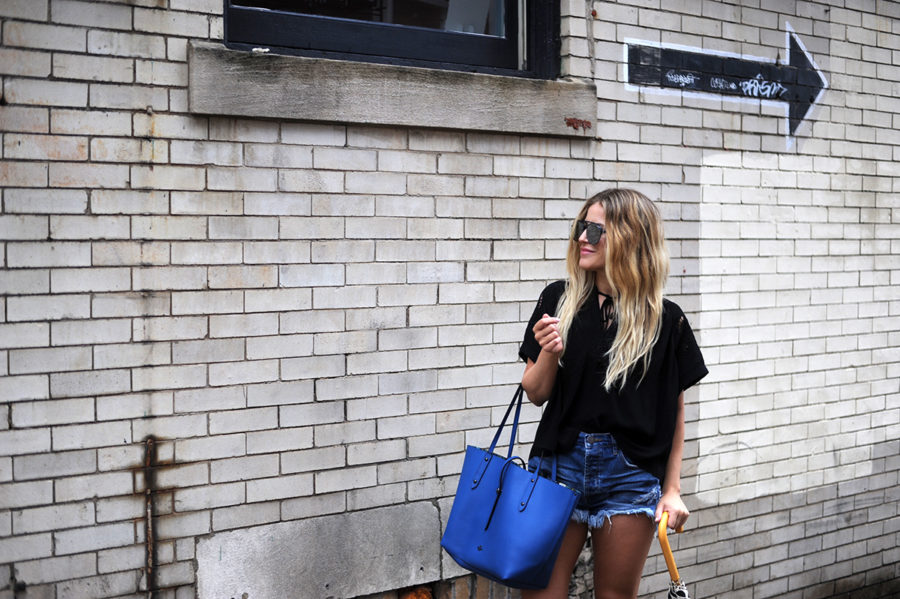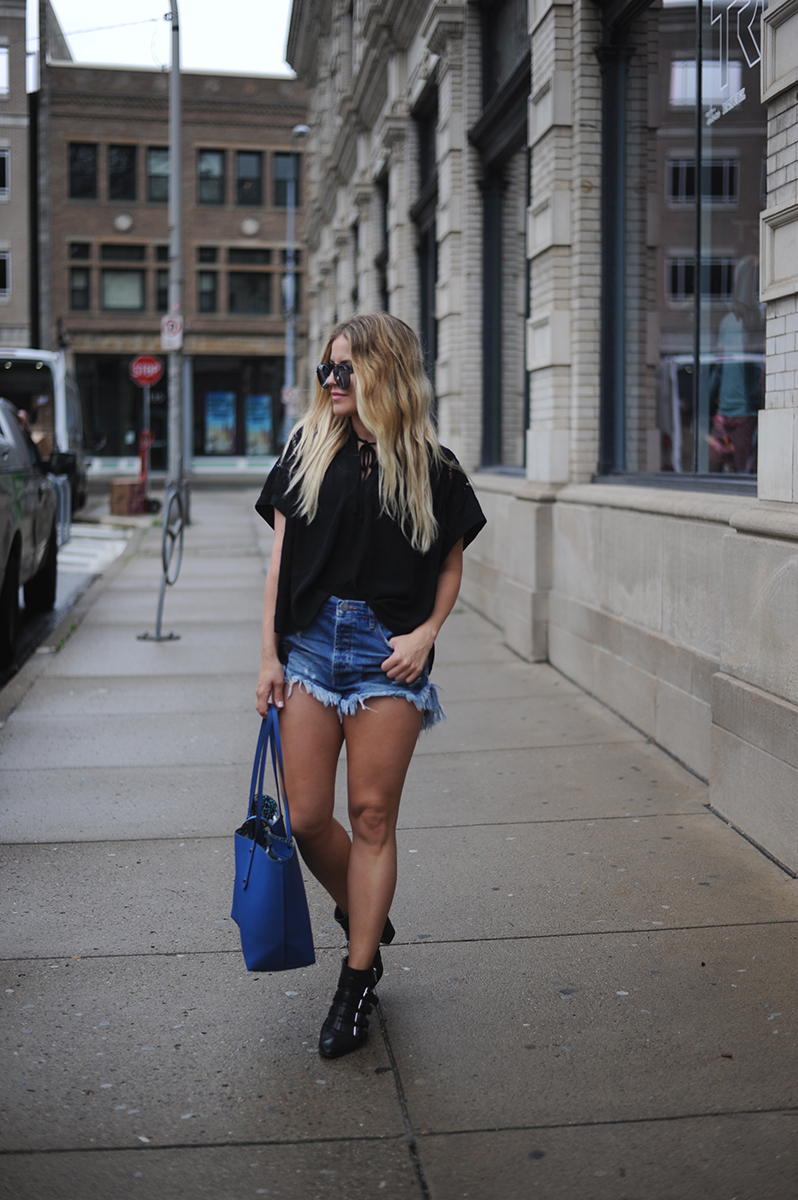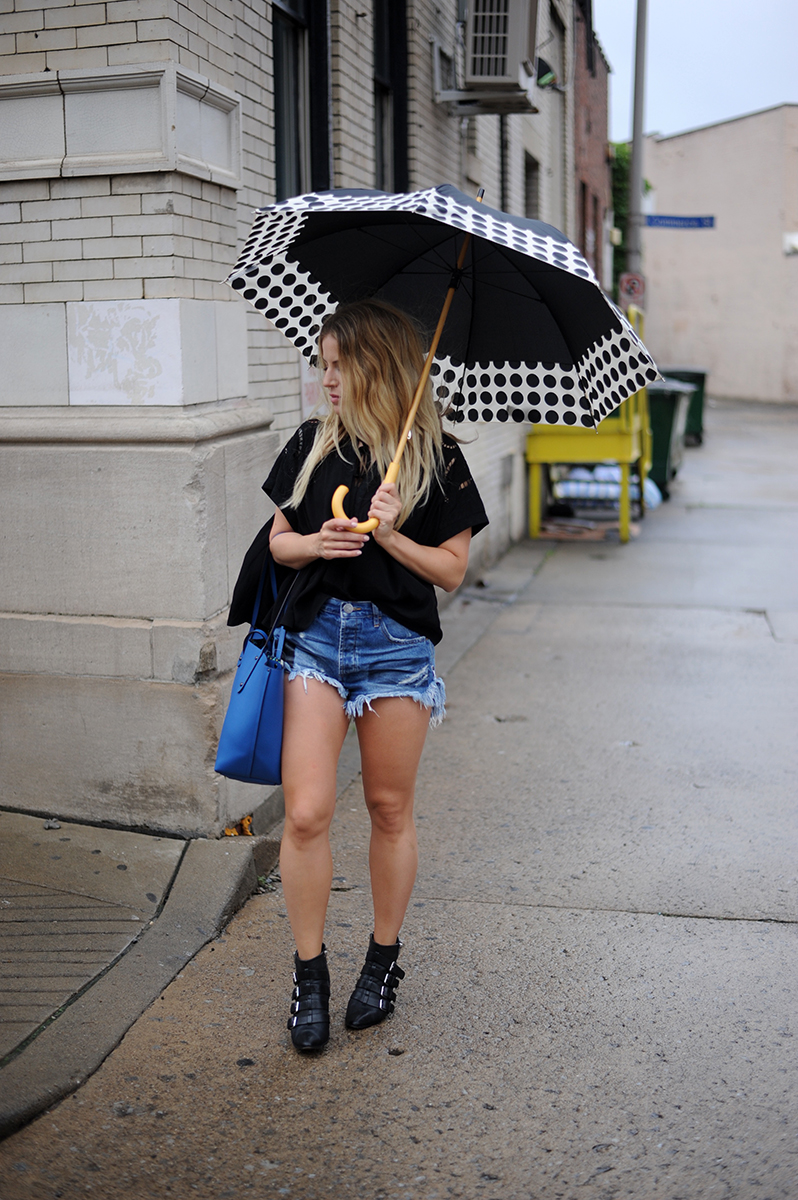 Rainy Day Style
My goal was to not let anything RAIN ON MY PARADE on this second trip back to Pittsburgh. I can't hide how annoyed I was at the whole situation of my new car breaking down and how incredibly inconvenient/expensive it was and how the stress led to migraines and just me feeling sick for a week. So when I planned the trip back, I planned to do things I like to do like eat pizza, ice cream and stay at a boutique hotel. But then it did fucking rain, literally. And I WAS RAGING.
To combat the rain, I took a deep breath and made a detour to Target to buy yet another umbrella. The story of my life: I forget to pack umbrellas so then I buy the same small black one that I then add to my growing collection at home. So this time, I splurged and got myself a $16 umbrella with polka dots and as soon as I was ready for Cole to snap some outfit pics, the rain cleared up and I looked like an asshole with an umbrella. So that's why I have some with and without them. It did rain again later, so it was put to good use at least.
I've been wearing these shorts and this top from PB & J Boutique on repeat–no other outfit truly matches my summer style than this. I added boots and the blue tote gifted from Coach to stuff my camera in as we wandered around.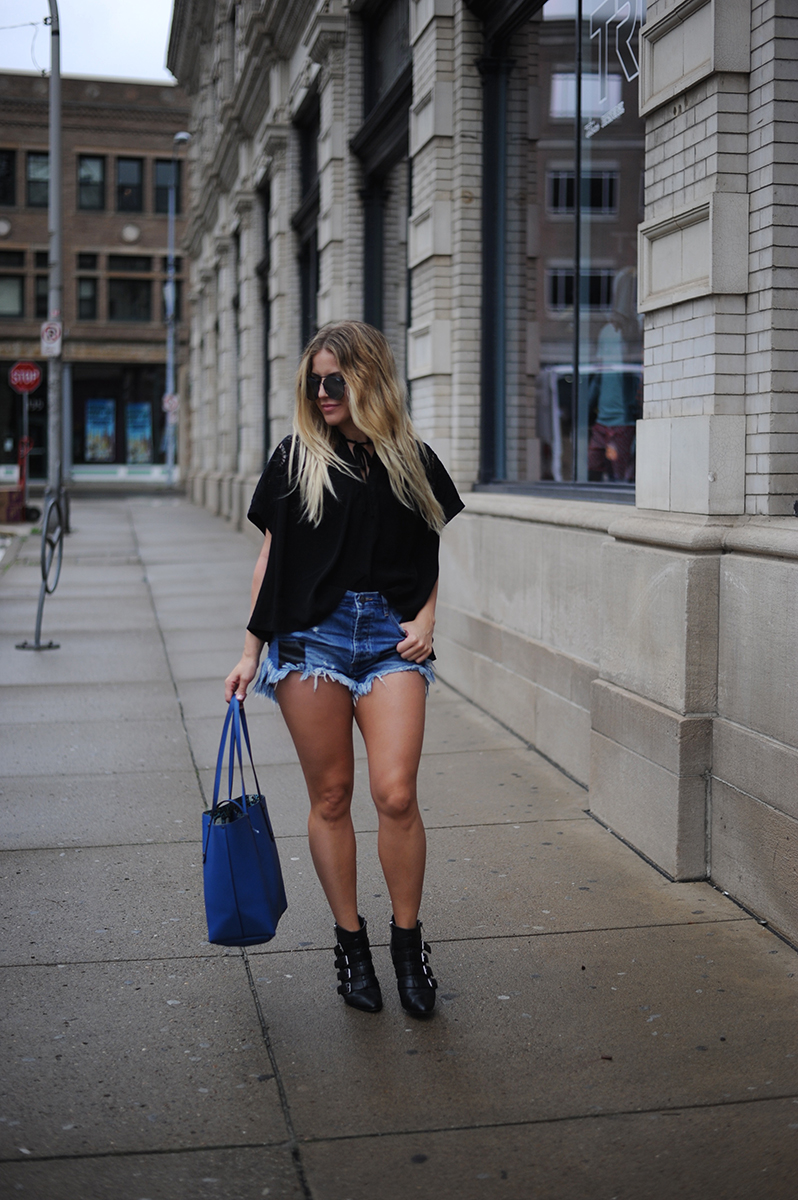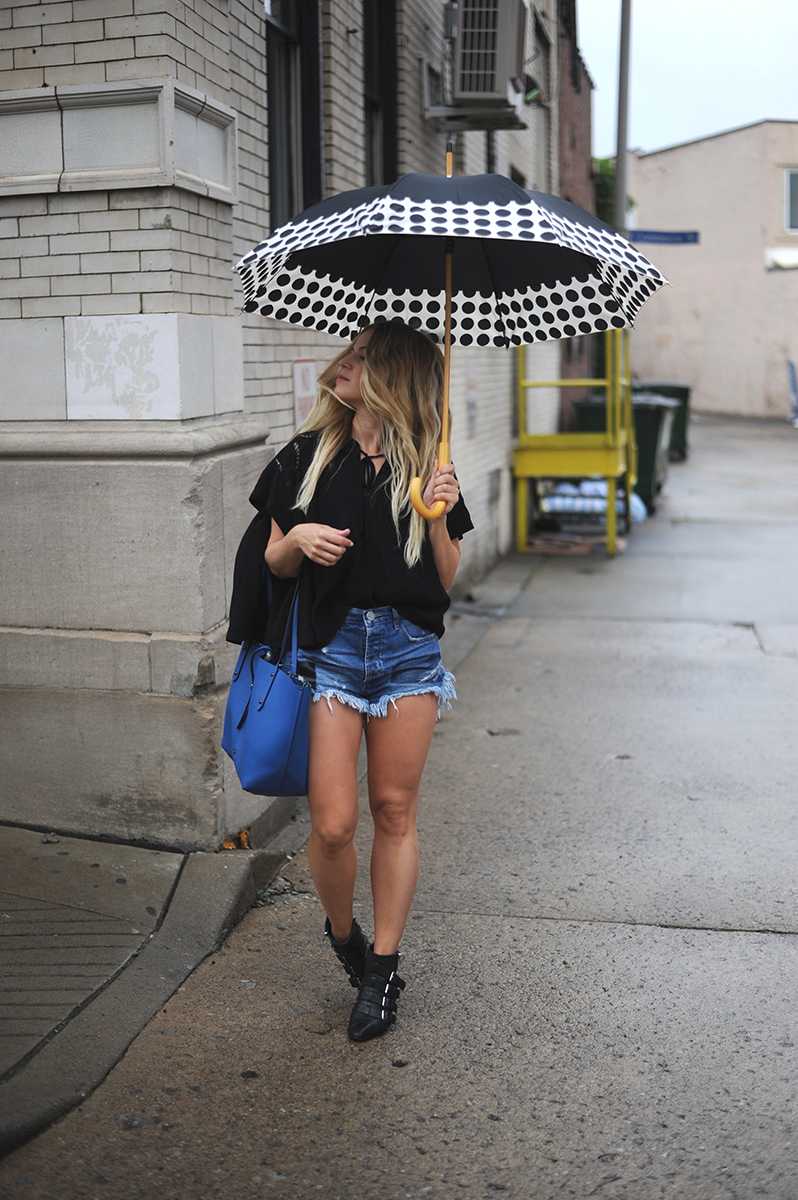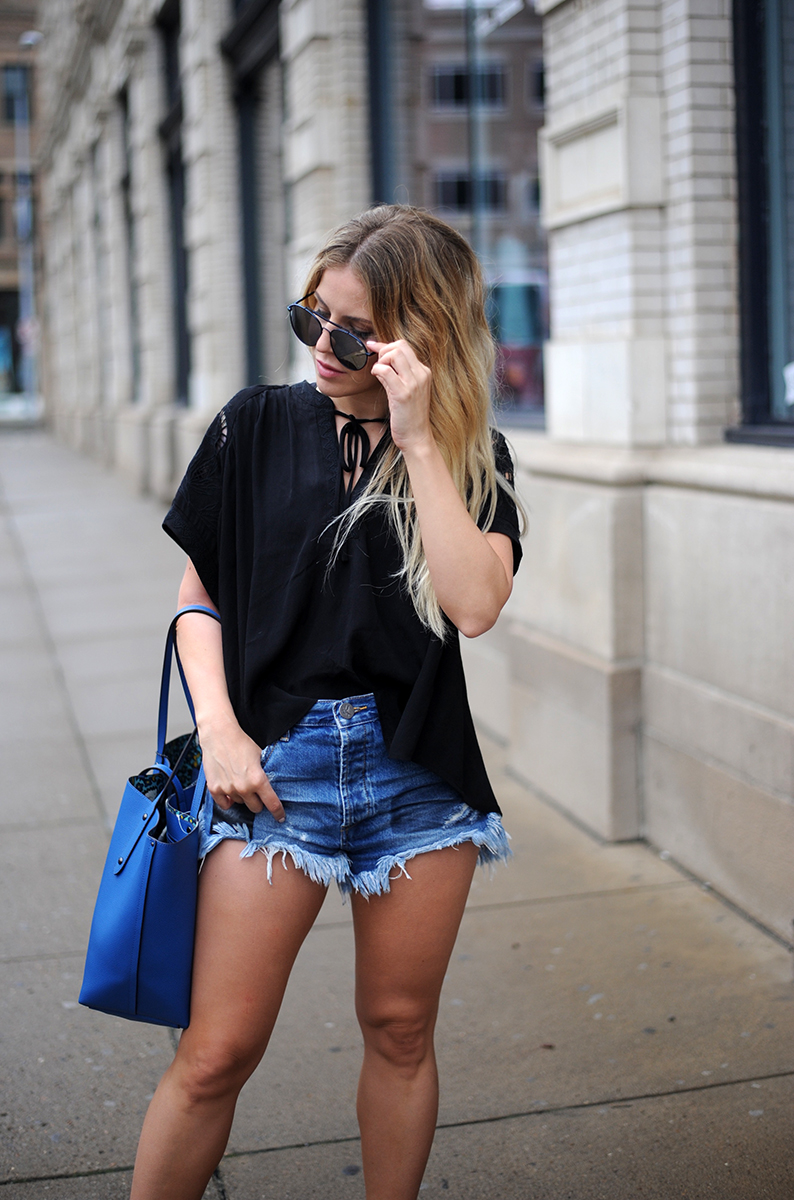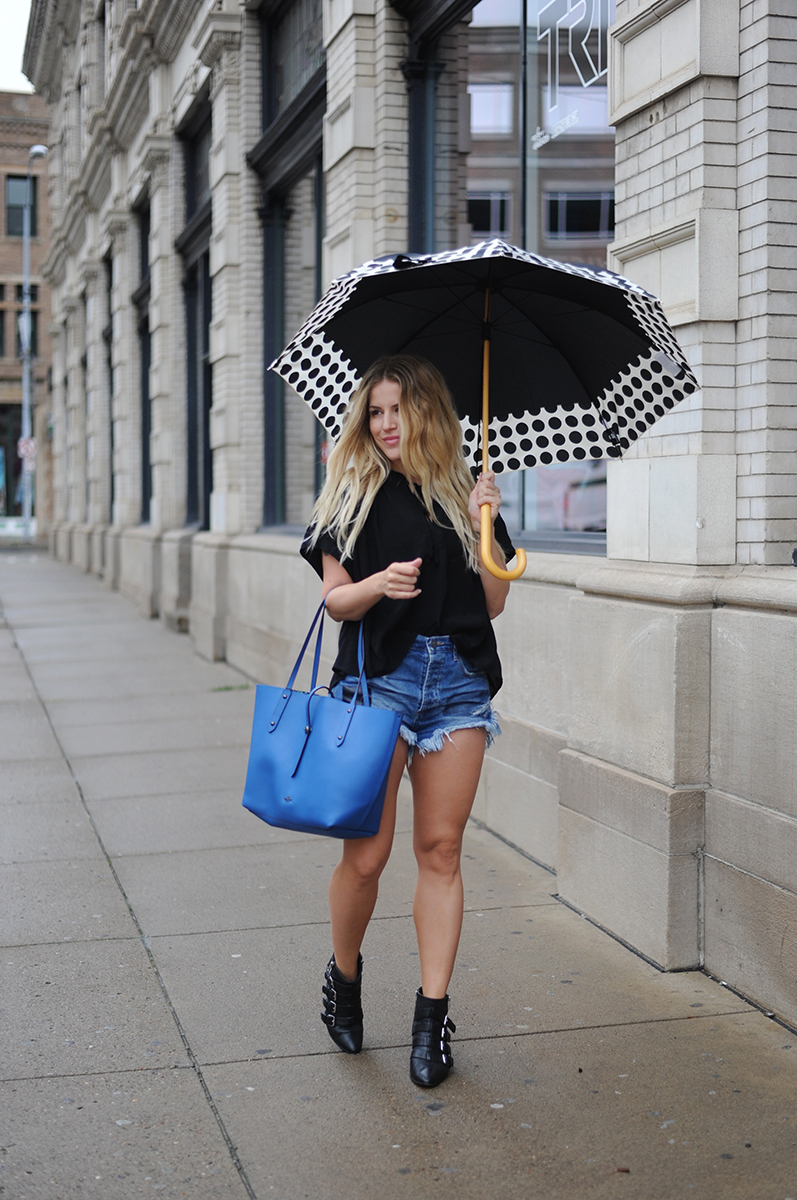 [
Aya Top
c/o
PB and J Boutique,
shorts by One Teaspoon, boots by Rebecca Minkoff, bag c/o
Coach
]