This post has been sponsored by Tecate Light. All thoughts and opinions are my own. Must be 21 or older to consume alcohol. Please drink responsibly.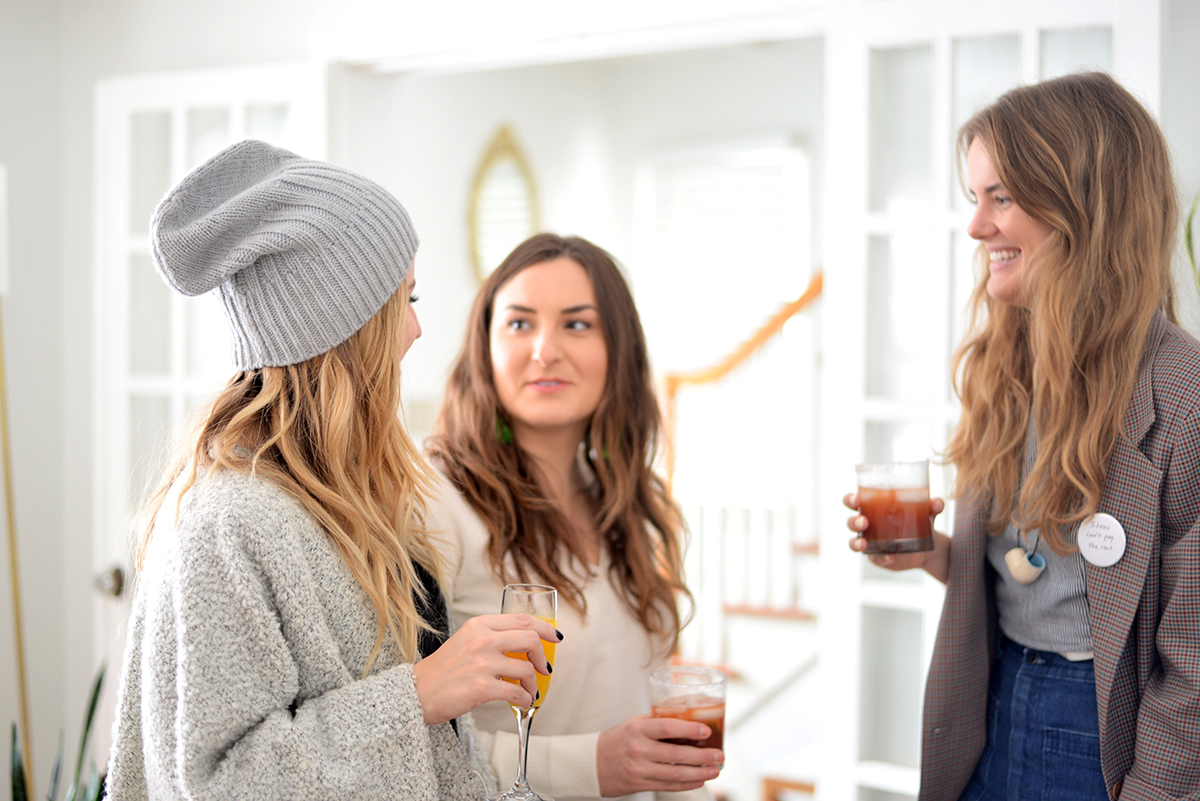 Entertaining during Michigan Winters
I become even more of a homebody during the cold, blistery weather. It's easy to become isolated in Michigan during the winter season because of the weather, but luckily this is also the time of the year I love to cook and bake (hey, what else can I do?) And so I bring the party to me.
It's truly the best of both worlds: I stay at home and eat, but also get to catch up with some friends! I kept it intimate with just a handful of friends I don't get to see as often as I'd like;  like Maggie who designs clothes, manages apparel manufacturing and also does amazing styling on the side and Anna who's this truly amazing artist who works as an art professor at MSU and designs beautiful quilt paintings, incorporating different textiles and paint. And also my coworker/good friend Jess. She was a reporter/anchor previously and so she's charismatic, outgoing and everything she says cracks me up. I see her every day, but I love her and wish I could stick her in my pocket wherever I go for a good cackle.
Winter Brunching
I love to host brunch, but it can be a little overwhelming so I love to gather ideas online and think of one single theme to incorporate and plan my meals around. The last time I hosted was last winter since it's the perfect time of year to invite friends over and relax indoors. My friends are generally in town this time of year making it easier to coordinate.
My last brunch featured mostly sweet treats including a waffle bar and mimosa bar. This time, I wanted to focus on a savory brunch theme and incorporating Tecate Light into my recipes.
The Menu
I'm no chef, so I prefer simple and easy recipes. I considered making a quiche, but there's no way I'm dividing eggs or doing anything remotely complicated. I like easy and anything with cheese and bread—and luckily, so do my friends. Below are my selections for easy, savory brunch menu items!
Beer Cheese Dip
I love beer cheese dip and so that was a no brainer. I whipped this up using this recipe. The recipe called for a flavorful beer and I had a 12 pack of Tecate Light ready for consumption! I added some cayenne pepper for some kick. It was a little greasier than I would've liked so prepare to drain the excess!
Garlic Beer Bread
I thought fresh baked garlic beer bread would be so extra with the beer cheese dip. I've never made bread and was a little nervous for this one, but it was incredibly moist and flavorful. And actually super easy. It's definitely going into rotation for future brunches.
For this bread, just one teaspoon of garlic powder, one teaspoon of baking powder, three cups of flour, once cup of cheese, one teaspoon of salt and three tablespoons of sugar and mix those dry ingredients and pour in a 12 ounce can of Tecate Light, and add into a baking pan, sprinkle extra cheese on top and toss in preheated oven at 350 degrees for 45 minutes. I then drizzle two tablespoons of butter over top!
Breakfast Casserole
I baked a super simple breakfast casserole that was the hearty component of our brunch. I added spicy sausage to give a little more kick and baked the recipe using half the ingredients to make a smaller casserole, perfect size for 4-6 people.
Michelada Bar
I always incorporate some sort of drink station for my brunches and I chose to set up a michelada bar with a spicy bloody mary mix, hot sauce and Tecate Light beer.
To create an easy, tasty michelada, run a lime around the rim of your glass and dip in salt, add in ice, Tecate Light beer and top off with tomato juice or a preferred bloody mary mix. And top with garnishes! I added pickles, but you can add bacon, celery sticks and/or olives along with lime or lemon wedges!
It's All in the Details
Aesthetics matter to me and so I knew I wanted to incorporate simple décor elements like fresh flowers at my dining table, elements of winter like spruce tree clippings and rosemary to decorate my peninsula and the michelada bar. Simple, easy touches to lend to that winter vibe!
If you're feeling the winter blues this season, consider hosting a brunch! For me, having a handful of friends over to catch up with and brag about my cooking skills incorporating Tecate Light was exactly what I needed this time of year with stress, a crazy work schedule, and feeling a little isolated lately with winter storms.