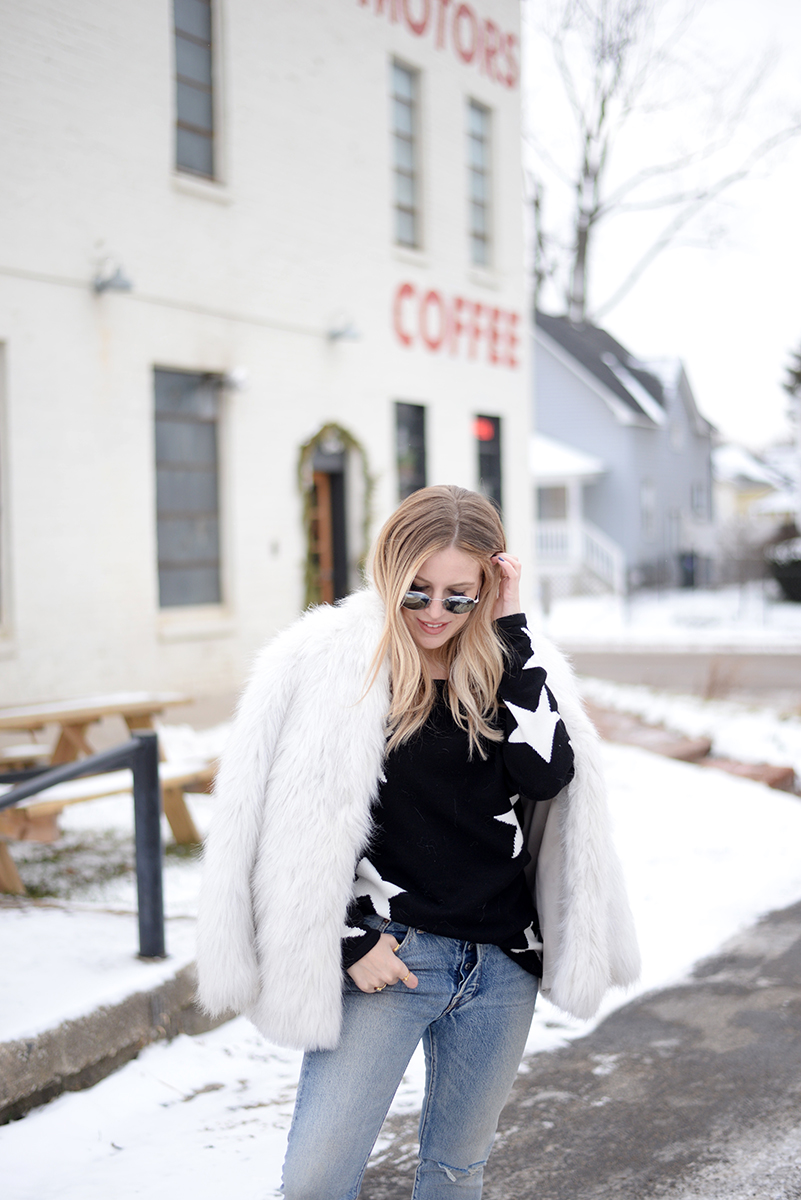 My good friends Haley and Kyle live in Kalamazoo and when she told me they were pregnant last week, I knew I had to scoot over to town to see her in person and celebrate.
A Day Trip to Kalamazoo
First, we visited Black Owl Cafe, one of her favorite spots for breakfast and coffee. It was the perfect, cozy brunch spot and the food was incredible. The employees left something to be desired with their customer service, but it's a transgression I can forgive since the food was so good. I will never, ever forget the forgotten bacon though and the look I received when I asked for my bacon and how I never received the aforementioned bacon.
Next, we parked downtown and visited Pick, a beautiful vintage store with loads of midcentury modern furniture, colorful accessories and elaborate lighting fixtures. Just down the road from Pick is Curate & Co, a bright shop with pops of pink! I just adored every single thing in that shop. So many great cards, baby gifts and beauty products and candles! They carry a couple of my favorite candle lines include P.F. Candle Co. and Boy Smells. I ended up buying a shimmery texturizing spray. We also shopped Petals and Postings. It was a little cramped with so many greeting cards, candles, calendars, etc, but worth taking the extra time to look through it all.
Lastly, we visited Fido Motors Cafe. My friend Tyler of Wendling & Boyd has mentioned this place on Instagram lately and he's the coffee aficionado of Michigan. I don't think I've ever tasted a better iced latte. And Haley ordered the chair with almond milk–spicy and not too sweet. So good!
New Year New Hair
I've been so excited to debut my hair refresh on the blog! I've been happy with my hair in the last year, holding off on the bleach and allowing the damaged hair to grow out and slowly be trimmed away.
I've loved the balayage technique as it's much less maintenance and looks so much more natural and it was time to freshen up my color and introduce a subtle, yet stunning color by Misty Shanan at the James Salon. The James Salon is in the Gaslight Village in Grand Rapids and I find myself spending more and more time over there to visit family, my horse and friends in West Michigan. And totally worth the drive.
I met with Misty for a mini consultation prior to my appointment and she explained a more pearlescent color she was hoping to achieve with my hair, keeping it naturally warm and multi-tonal. With her 17 years of experience and focus on the balayage technique, I knew she'd be able to handle my thick head of hair!
When I arrived for my appointment, I waited in the clothing boutique section of the salon and the couple minutes I waited, I checked out the cute sweaters and shoes. Seriously, what a great idea to combine a boutique and a salon. And then Misty whisked me away to her chair, offered me wine (I opted for the Diet Coke!) and we got started. She used a 10 volume developer, which is a lot less damaging to the hair and perfect to lift my color just a bit. She hand painted my hair, breaking up the new growth and applied it at the bottom to brighten up my blonde and used a glaze that smudged the roots to help it all blend and a seal that left my hair so soft.
I'm so happy with the color and dimension it has now! Thank you so much Misty and James Salon!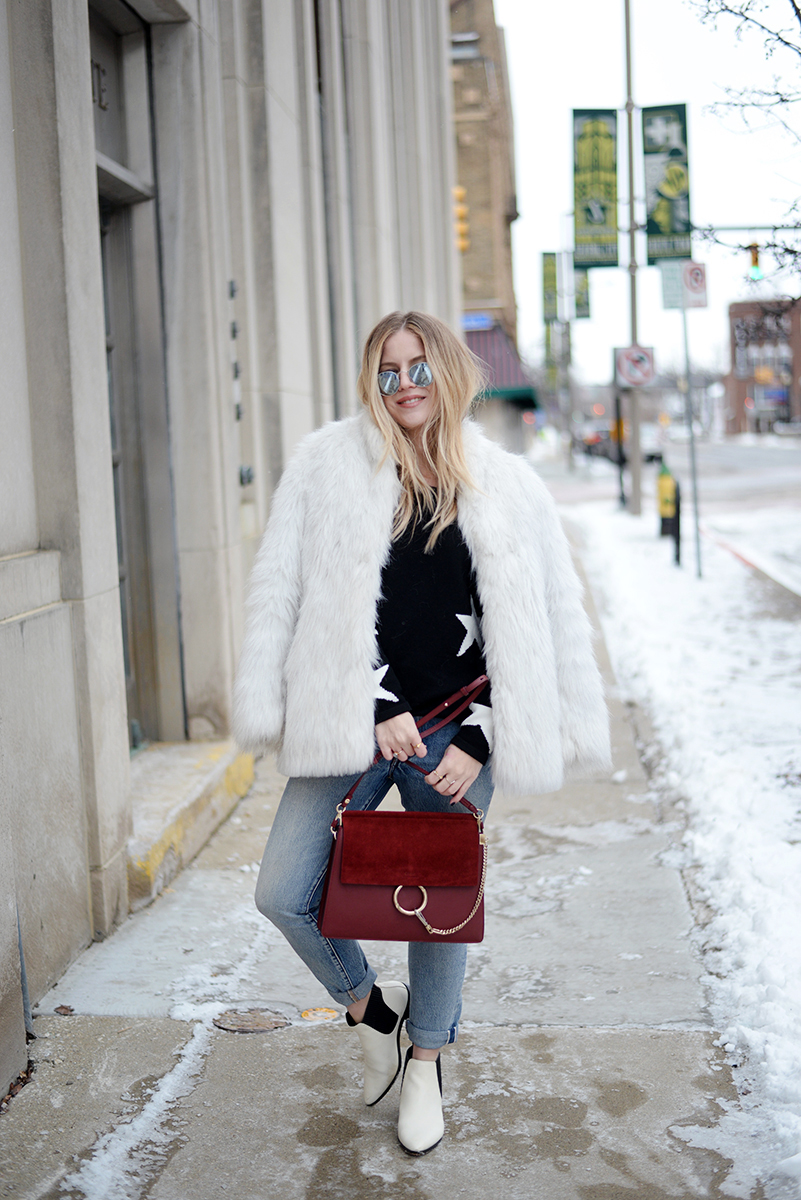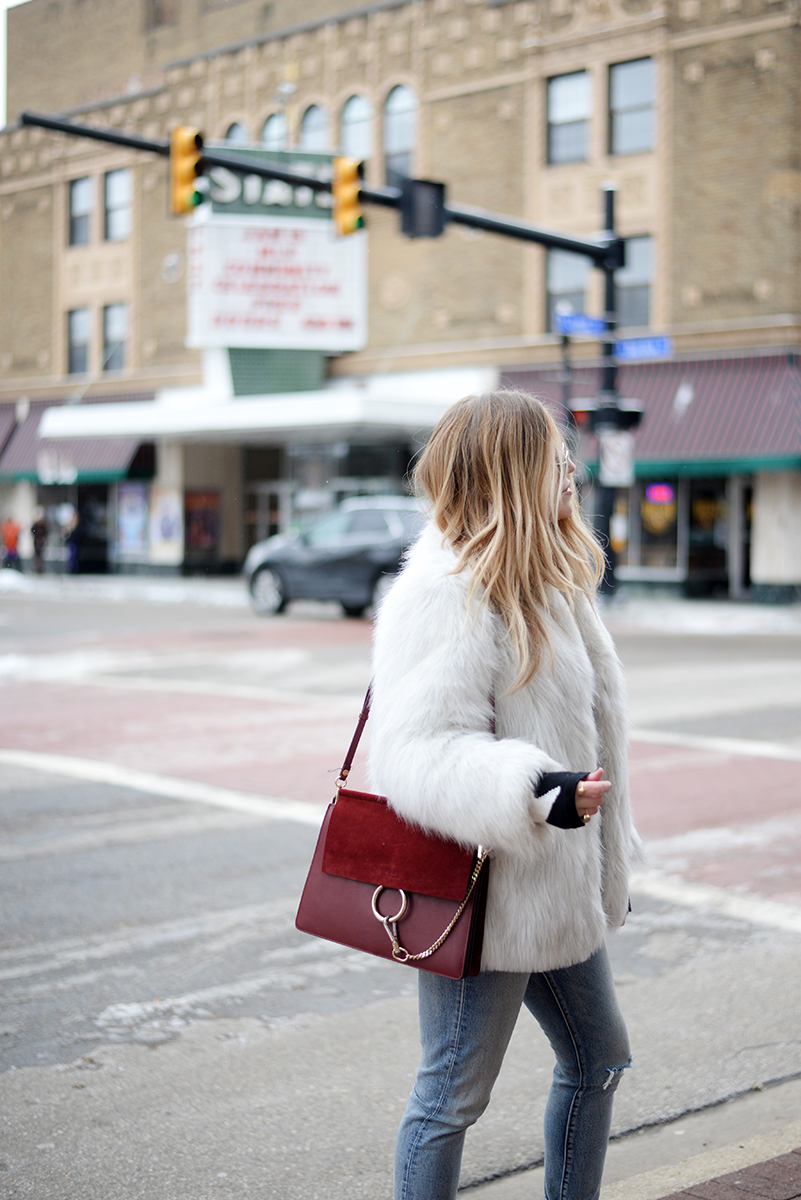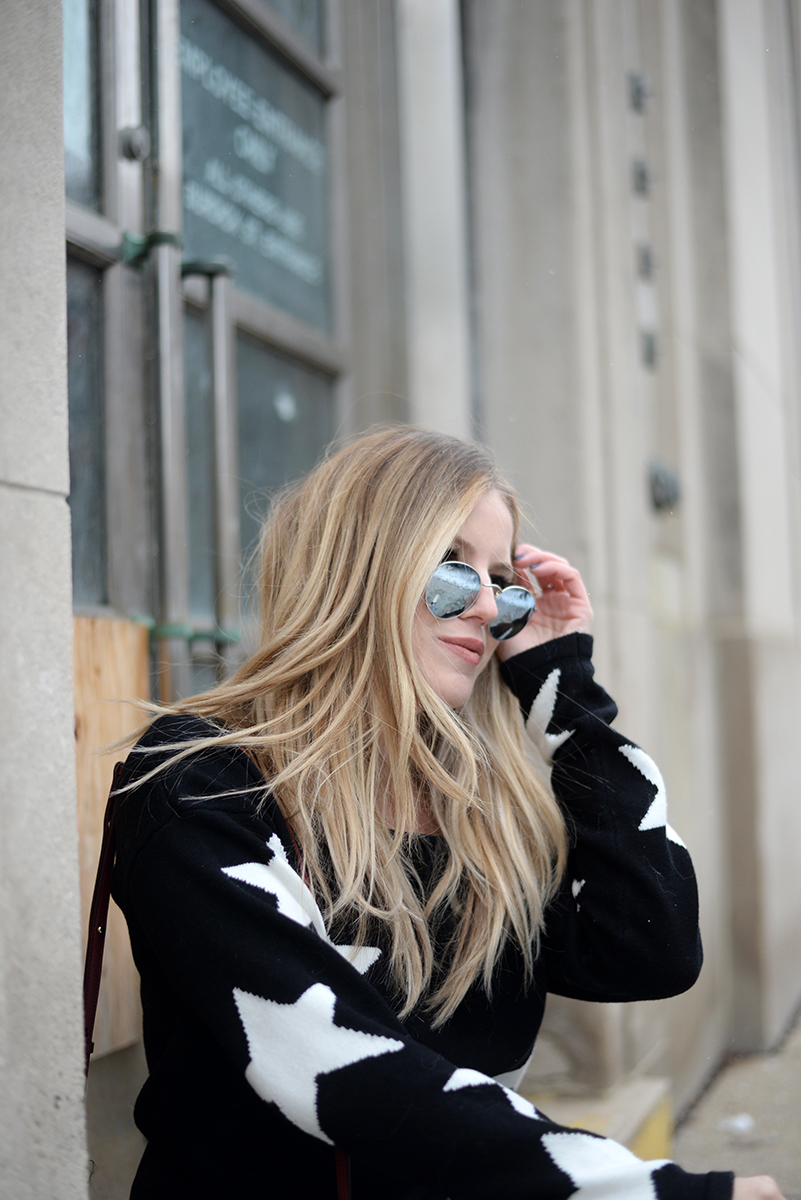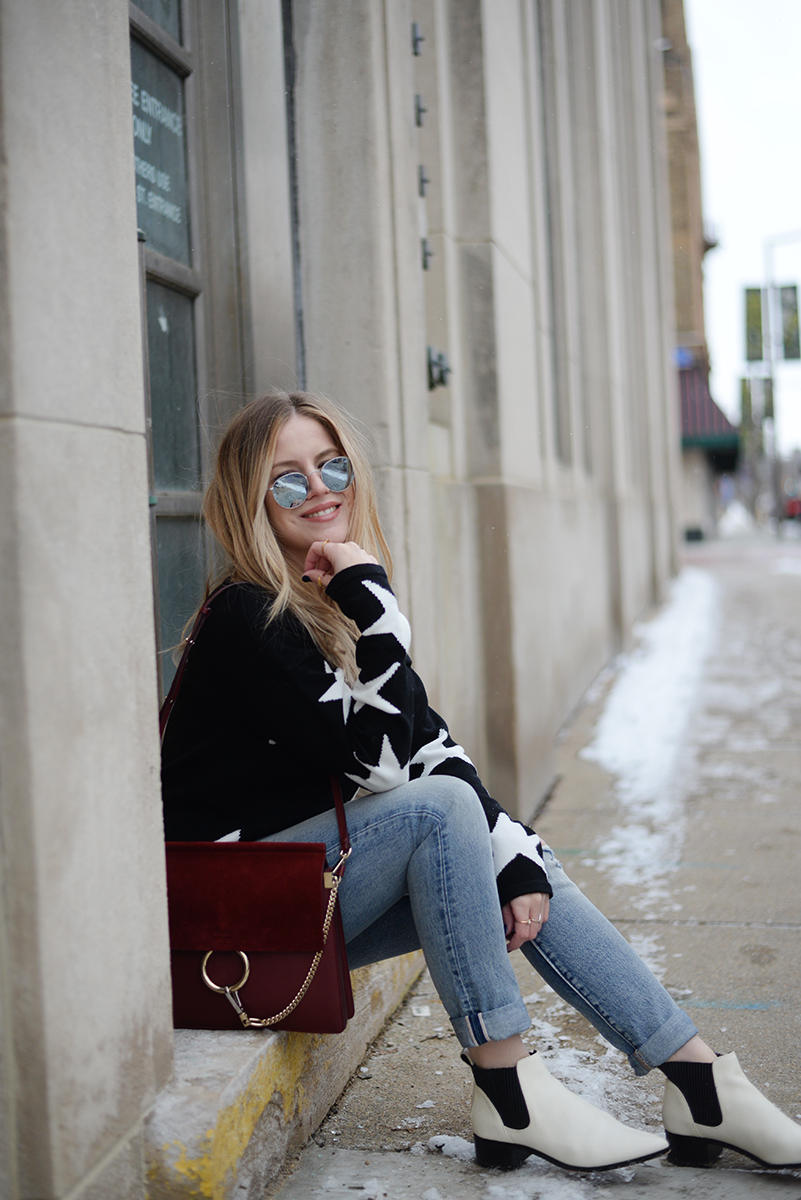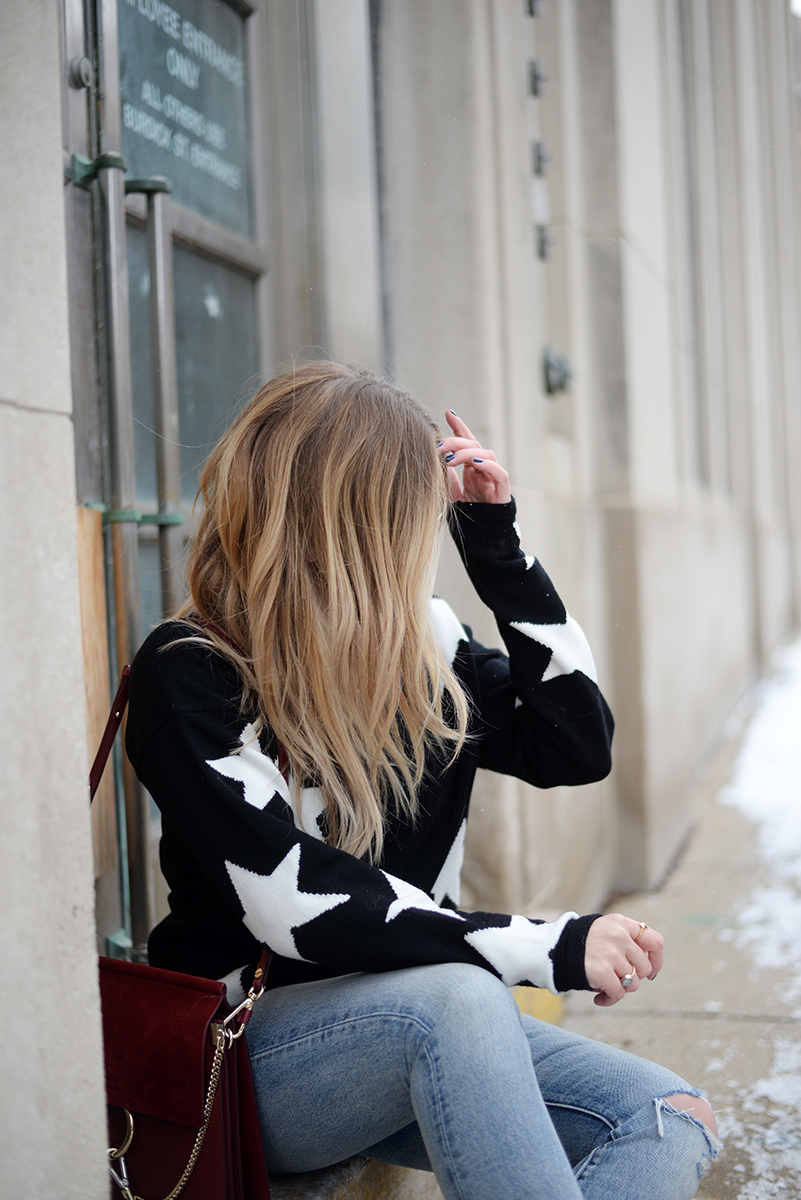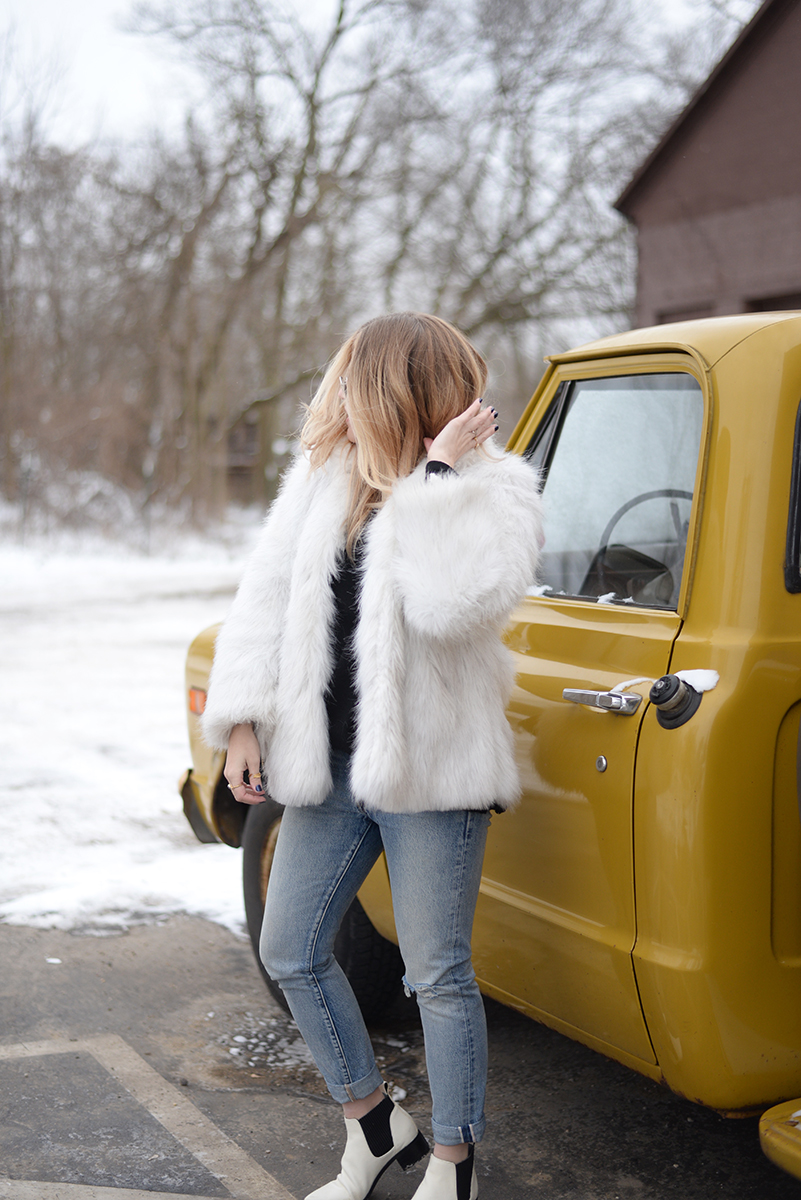 Oversized star sweater c/o Amaryllis | jeans by Levi's | boots c/o Lori's Shoes | bag by Chloe | sunglasses by Rayban | thrifted faux fur coat
Photography by Haley Schrauben Patterson