I'm thrilled to have this hot piece of man candy, Ben, share his perspective on men's fashion and fall fashion trends. I tend to get questions on men's trends and I figure who better to ask than this stylish Detroit boy and co-creator of
Texts from Last Night
. And for your viewing pleasure…
Sometimes how i wonder how I ended up "working" at my desk in cutoff sweatpant shorts. I mean, I'm a product of private school uniforms, herringbone jackets and bright green TopSiders. When I went to college, I refused to wear anything more comfy than denim to a 9 AM lecture, didn't know what it felt like to wear sandals at a bar and displayed my MSU allegiance through those same green TopSiders at football games. Yet here I am in these cutoffs, browsing
Twitter
when a message arrives asking if I'd like to do a guest post on Fall trends for men. Guess it's time to change…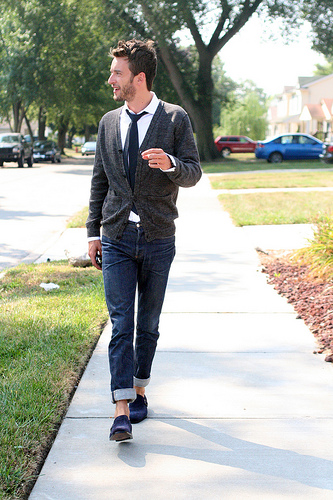 [shirt by ralph lauren black label, tie by rag and bone, jeans by apc, cardigan by j crew, wing tip monk strap shoes by ferragamo, watch by toywatch]
For me, one of the biggest perks to running a website is that what I wear is entirely up to me. Some days I might be in a suit, sometimes I won't put on pants and on some Skype video calls I get to combine both looks (guess which half). To me, the most important thing as far as style is concerned is that no matter how ridiculous things get, I still appear put together. Here are some ways I'll attempt to pull that off this fall.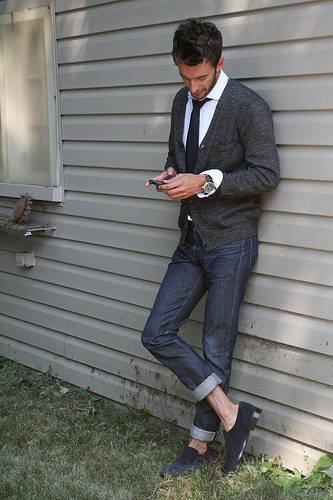 First, I'm a huge advocate of the rolled up pant leg. This one is easy: take whatever pants you're wearing and give them some extra cuff. Any amount of added texture above the ankles will work. You can rock small, hem-sized rolls, or one giant fold like my friend
Kristin
who pulled this off with a pair of black boots. Before you start complaining about how cold your ankles are: stop. This
will
work with socks, but it requires you to throw out the boring pairs.
Obviously, if you roll up your pants you have something interesting going on at the shoe level. I'd suggest looking this
link
over. There's also plenty of good stuff coming out from TOMS this season, so you can get a side of karma with your blossoming shoe addiction.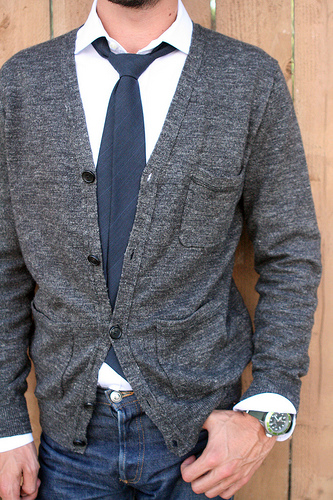 Fall is a time to layer up, so that means you need to step up your sweater game. My favorites are cardigans. A good cashmere v-neck is also an essential item. Big, chunky cardigans can stand on their own over a t-shirt for days with a chill, the v-neck will show off a shirt & tie combination and can be even worn under a jacket or with a suit. Play with color and proportion especially on the sleeves and show some damn cuff. Grey, navy and green are the colors to look for, but don't be afraid to go bold in the color department if you feel the urge.
I hate the hype, but I love bow ties and I strongly suggest that every guy learns how to tie one. It's one of the greatest bar tricks and it definitely can win a few hearts if that's your goal. The other trend in ties seems to be slim, knit ties with tie bars, but my favorite look is the Italian take on a narrow tie. Tie one up, but slide the back to the side to create a slightly wider silhouette.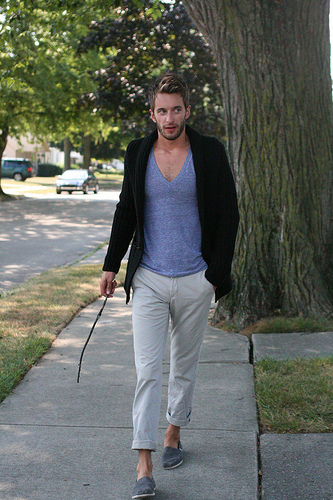 [shirt by american apparel, cardigan b zara, pants by jcrew, shoes by toms, watch by toywatch]
Get to know a good pair of khakis. Really get to know a pair of slim-cut suit pants without the jacket. Pair both with casual shirts for a relaxed, yet purposeful weekend look.
My personal style has evolved to accommodate what works for me, so make sure to adjust your look throughout fall. Also, be sure to check out some of my new favorite style sources online like
Valet
,
Secret Forts
,
ACL
,
and
The Moment
to garner inspiration for how you can use what is already in your closet to kill it out there. If you're interested in what your girlfriend wants, sign up for the
Zoe Report
. If you just want to look at women that you wish were your girlfriend(s), check out
T
h
e
Wandering Eye
on GQ
. Oh and I almost forgot… Send all of your texts from last night to 76843 and check out
textsfromlastnight.com
.